Arusha Technical College ATC Online application 2023/2024: The Arusha Technical College (ATC) uses online application system (OAS) to receive and process applications for admission in to various ATC programmes. The Arusha Technical College online application System is linked with Tanzania Commission for Universities (TCU) admission system, National Council for Technical Education (NACTE) and National Examination Council of Tanzania (NECTA) for degrees, certificates and Diploma verification.
ATC Online application is an online database system created and designed by ATC IT department that automate the collection, tabulation and reporting of applicant information to simplify college admission and application process at ATC. The Online application system requires the user/Applicant to have a computer that is connected to the internet enable the user/applicant to access the online application System and make application instantly.
Before using ATC, online application system makes sure one of the following Web Browsers have been installed on your device: Google Chrome, Microsoft Internet Edge, Microsoft Internet Explorer version 7.0 and above, and Mozilla Firefox 3.5 and above.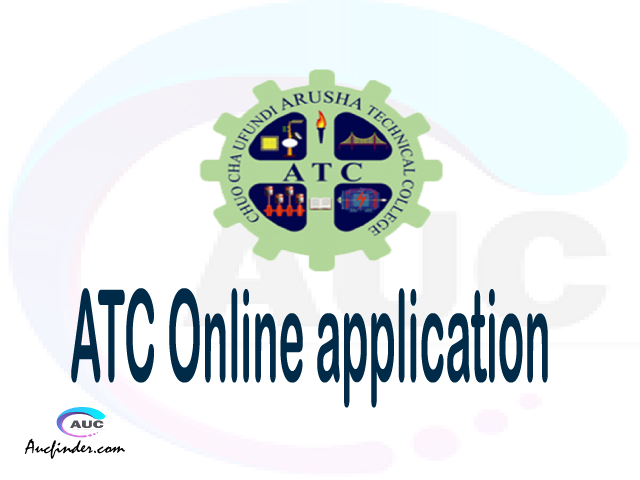 How to Apply for Admission at the Arusha Technical College
The long-awaited application forms for the Arusha Technical College (ATC) are finally online. Interested candidates can now access these digital forms in preparation for their 2023/2024 admissions. The institution welcomes all qualified candidates to enroll for the different undergraduate programs while the portal is still open.
The candidates must know that, the Tanzania Commission for Universities (TCU) has already declared the minimum entry requirements for admissions as well as the application procedure for the 2023/2024 academic year at Arusha Technical College (ATC). Surprisingly, many potential applicants are still experiencing hardships with ATC online application system even as the deadline approaches soon.
Through this system you will be able to apply for Admission into Bachelor Degree, Ordinary Diploma or Basic Technician Certificate Courses offered by Arusha Technical College.
How To Apply
Click here to read the admission user manual that will guide you step by step to the final stage of submitting admission application to our college.
Important Requirements
Upload bank pay-in slip and any other documents as directed by the System. Note that in order for your application to be processed, a non-refundable application fee(as shown in the call for admission applications advert) must be paid to the College. Names written on bank pay-in slip must be the same as those in your CSEE certificate. Applications without bank pay-in slip and certificates will not be processed
Warning
Submission of forged certificates, invalid examination results or any false information is criminal offence and will be dealt with according to the law.
Payment And Bank Details
Applicants are required to send `SMS` to 0762 042717 or 0715 886695 with the following details: i). Full name of applicant ii) Telephone number iii) Purpose of the payments (for this case Application Fee 2019/2020) iv) Amount to be deposited (i.e. TZS 10,000/). After a short time, the applicant shall receive a `SMS` with `CONTROL NUMBER` which shall be used to deposit application fee to any NMB branch or CRDB branch agent (WAKALA) all over the country. In order to fast track requests for control number, SMS should be sent from Monday to Friday (8:00am to 3:30pm).
Equiry
For any enquiry on using the system or admission process send email to admissions@atc.ac.tz
For more details on how to send your application online via ATC online application system please follow this link