Get information about Lovedale TVET College, Lovedale TVET College application, online admission, fees, prospectus, application documents and deadlines, prospectus, university ranking, application status, address and other facts on Lovedale TVET College.
About Lovedale TVET College – Lovedale college history
Lovedale TVET College has a long and prestigious story to tell in the history of education in South Africa. Although the institution has changed shape and direction many times over the years, it has nonetheless remained an educational institution that has always had the interests of the surrounding community at heart.
Today, the Lovedale TVET College consists of three campuses, each one addressing particular needs of the community. The history of the College is tied up in the history of each of its campuses: Alice Campus, in the little town of Alice in the Eastern Cape and the site of the original Lovedale, King Campus in King William's Town, and Zwelitsha Campus, also in King William's Town.
Admission information
If you are applying to Lovedale TVET College, here are some of the most useful information that you need to Know about Lovedale TVET College, Check the links below for more details
Lovedale college prospectus pdf
Lovedale college online application
Lovedale college application form
Contacts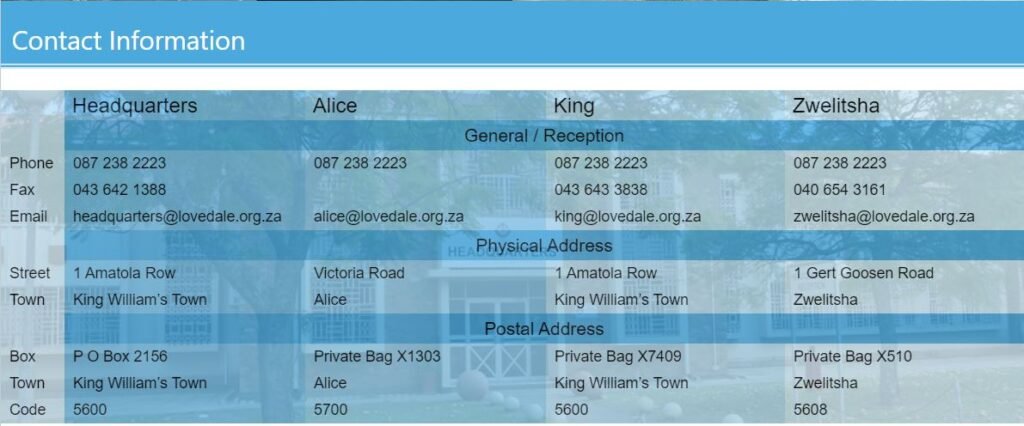 Headquarters
Alice
King
Zwelitsha
General / Reception
Phone
087 238 2223
087 238 2223
087 238 2223
087 238 2223
Fax
043 642 1388
043 643 3838
040 654 3161
Email
headquarters@lovedale.org.za
alice@lovedale.org.za
king@lovedale.org.za
zwelitsha@lovedale.org.za
Physical Address
Street
1 Amatola Row
Victoria Road
1 Amatola Row
1 Gert Goosen Road
Town
King William's Town
Alice
King William's Town
Zwelitsha
Postal Address
Box
P O Box 2156
Private Bag X1303
Private Bag X7409
Private Bag X510
Town
King William's Town
Alice
King William's Town
Zwelitsha
Code
5600
5700
5600
5608
For more details, you can visit the Lovedale TVET College Website Here